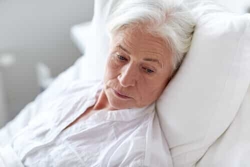 Nursing home abuse is vastly underreported. In fact, the National Research Council estimates that only one in 14 cases of elder abuse gets reported in the United States. And, according to the Associated Press, there were approximately 6,600 cases of nursing home abuse that went unreported in 2016.
Nursing home abuse and neglect are underreported for various reasons, including an elderly person's inability to communicate the abuse, or threats and intimidation from a caretaker.
Therefore, it's important for family members to know how to report nursing home abuse and neglect themselves so they can help their loved ones spend the remainder of their lives in peace and dignity.
Warning Signs of Nursing Home Abuse
There are several telltale signs of nursing home abuse, including the following:
Physical abuse: Warning signs of physical abuse include unexplained broken bones or bruises, broken eyeglasses, and more.
Emotional abuse: Warning signs of emotional abuse include withdrawal, regressive behaviors, and more.
Sexual abuse: Warning signs of sexual abuse include unexplained STDs, ripped underwear, and more.
Financial abuse: Warning signs of financial abuse include unexplained ATM withdrawals, unusual subscription sign-ups, and more.
Who to Contact
There are several parties that you can contact if you suspect or witness nursing home abuse, including the following:
Local police or law enforcement
The State Department of Health Complaint Line
Long-term care ombudsmen
Nursing home administrators
An experienced Nursing Home Attorney
It's a good idea to have evidence in hand when reporting abuse in order to support your claim. This might include notes of residents' behavior, photos or videos of injuries, and statements from residents.
Do You Still Suspect Abuse? Contact Us Today
If you have reported or if you suspect nursing home abuse or neglect, our Pittsburgh personal injury attorneys are here to help you seek justice. Our team can launch an investigation and help you hold those responsible liable for their actions.
Contact Robert Peirce & Associates, P.C. today at (844) 383-0565 to schedule a free consultation.