Social Security Disability
Pittsburgh Social Security Disability Attorneys
Ensuring You Can Continue to Support Yourself & Your Family After Disability
If you suffer a severe injury or are diagnosed with a chronic illness, you may lose your ability to work and provide for your family. Some people purchase disability insurance for this eventuality, but most don't. However, if you're a citizen or lawful permanent resident of the U.S., you may be able to receive Social Security Disability Insurance (SSDI) payments to help you make ends meet while you are unable to perform a job.
The average SSD payment of around $1,200 per month can help save your home, cover your most important bills, and receive medical treatment.
Whether you are just starting your SSD claim, or have been denied benefits, call our Pittsburgh social security disability attorneys at (844) 383-0565 to see how we can help you.
What Can an SSD Attorney Do for Me?
The team at Robert Peirce & Associates has helped clients with permanent and partial disability access the benefits they urgently need. The government has strict standards for applications, and anyone who does not present a strong case may be denied benefits—even if their need is obvious!
At Robert Peirce & Associates, P.C., our Pittsburgh social security disability attorneys have represented clients with illnesses including:
Heart conditions
Paralysis
Chronic pain disorders
Fibromyalgia
For nearly 40 years, our family-owned practice has been dedicated to providing our clients with supportive and compassionate legal representation. We understand that injury and illness can be very stressful for entire families. This is why we're so passionate about using our skill and experience to serve those in such situations.
Meet the Accredited Disability Representative at our firm.
What are the Eligibility Requirements for Social Security Disability?
Not all injuries qualify someone for SSDI, and applicants must also meet certain work requirements for the social security program. The process of proving eligibility involves filling out a complex application and providing exhaustive evidence for your claims. An experienced SSDI attorney can help you gather everything you will need and ensure your application process goes as smoothly as possible.
You must meet the four following requirements for the SSA to consider your application for social security disability:
You cannot work due to a disability that will either last at least one year or will result in death
Your disability must be total and persistent, not partial and/or temporary
Your condition must meet the SSA's definition of a disability
You may not be at or over your full retirement age
Approximately 1 claim of every 4 is accepted on initial filing, and though there is an appeals process, the final acceptance rate for claims between 2006 and 2015 averaged out to 34%. If you want to be among the third of claimants who receive help, you need to make sure you're closely following all rules and requirements. Our team can guide you through the paperwork and requirements so that you can submit the strongest claim possible.
What Can I Do If I'm Denied SSDI Benefits?
Trends in applicant outcomes show the percentage of individuals denied for technical details has been increasing since 2008.
Thankfully, a denial from the Social Security Administration (SSA) isn't the end of a claim. You can appeal the decision. However, when going through the appeals process, it's a good idea to determine why your claim was turned down the first time. A Pittsburgh social security lawyer from Robert Peirce & Associates can help you understand the reason for your claim denial and file an appeal.
Support for Your SSDI Application
Winning on appeal is great—but we'd rather help your application succeed the first time so you can receive the funds you urgently need. No matter where you are in the filing process, reach out to our team to see what we can do for you.
Our team is here for you if you're struggling with a medical condition that has prevented you from being able to work. We can help you collect the evidence you need and organize it into a convincing case. Because of our experience in this field, we often help clients by identifying additional pieces of evidence that can help their cases be even stronger.
Not only will you get strong advocacy from our team at Robert Peirce & Associates, P.C., but we also believe in open communication to keep clients informed about their case's status and developments.
Let our dedicated social security disability attorneys in Pittsburgh guide you through this complicated process. Call us at (844) 383-0565 to schedule an appointment!
Frequently Asked Questions
Do I have to be disabled a full year before I can qualify for benefits?

Fortunately, the answer to this is no. Individuals who are disabled now, and who expect to be unable to work for at least another year, can apply for SSD right now. Indeed, an SSD application can take months to be reviewed and decided upon. Also, once the application is approved, applicants can often receive a certain amount of back payments for the time that they were disabled prior to getting approved.

How can I receive SSD widow's benefits?

In order to qualify for disabled widow's benefits, an applicant has to be 50 years of age or over. Next, the disability had to begin before the deceased spouse was 60. Also, the disability had to begin no more than seven years after the latest of the following: the month the deceased spouse died; the last month the widow was entitled to receive survivor benefits based on being the custodial parent of the deceased spouse's child; or the month that the widow's own entitlement to receive SSD benefits expired because the widow was no longer disabled.

Can a minor receive child disability benefits?

Pennsylvania parents who have special needs children may qualify to receive either Supplemental Security Income (SSI) and Social Security disability. In the case of SSI, a child may be able to qualify for benefits from birth until the age of 18 due to blindness or due to disability. To qualify, the child must have impairment, or multiple impairments sufficient to meet the government's definition of disability in the case of children. Also, the resources and income of the child's parents can only be within certain limitations. In the case of Social Security, children who are 18 years of age and up can receive monthly benefits based on blindness or disability. To qualify, they must have one or more impairments meeting the government's definition of disability with regard to adults. The disability also has to have begun prior to the age of 22. Further, the child's parent or parents must have worked for a period long enough to qualify for Social Security and be receiving retirement benefits or disability benefits, or the parent is deceased. In the case of both SSI and Social Security, the child also has to have a condition that has already lasted, or is believed will last, for 12 or more months, or until death.
Success Centered Representation
Put Our Decades of Expreince on Your Side
Built Around Results, Compassion, & Knowledge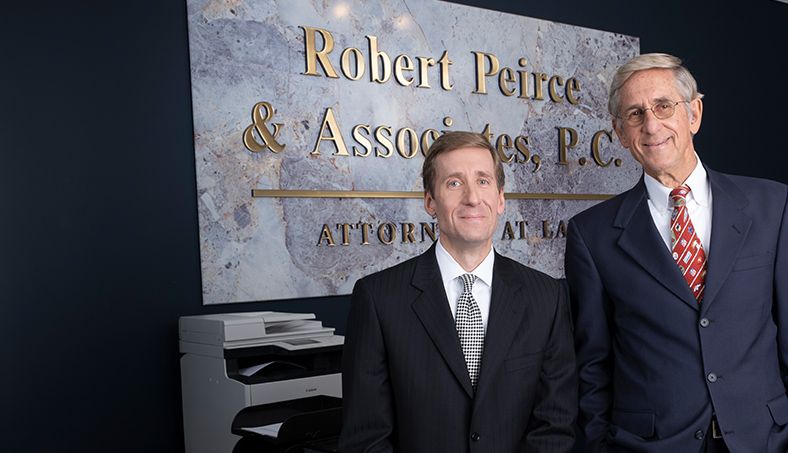 Meet Our Team
Putting Our Clients First
Unparalleled Communication & Representation
"My experience with Robert Peirce & Associates, P.C. was exceptional. From the first day that I contacted them, I knew I made the right choice. Their entire team is very knowledgeable and guides you through the entire process with ease."

- Kelly Weber
Pittsburgh Injury Attorneys
Experience You Can Trust
Request A Free Consultation
Simply fill the form out below to request your free consultation and we will be in touch shortly.