Pittsburgh Car Accident Lawyers
For More than 40 Years, We've Been Helping Car Accident Victims Recover Compensation
When you've been severely injured in a car accident, you will need significant legal compensation to account for your losses, from property damage to lost wages to medical expenses. Even if you think your personal injury injuries are "minor," they may become more serious over time.
After a car accident, high levels of adrenaline in your body block your pain receptors from perceiving the true scope of the injury. Additionally, soft tissues and muscles are easily damaged and may not always heal correctly.
---
Don't miss your chance for recovery. Call our car accident attorneys in Pittsburgh at (844) 383-0565 or reach out online for a free consultation.
---
Do I Need a Lawyer for My Car Accident?
Generally, it's in your best interest to contact a lawyer as soon as possible after suffering injuries in a car accident. There are a couple reasons for this, the first being the statute of limitations. According to the Pennsylvania Consolidated Statutes Title 42 section 5524 the state of Pennsylvania has a two-year timeline.
This means you have two years from the date of your accident to file a claim or you risk losing your right to do so. It's important to note that exceptions to this law exist that can change your filing time. An experienced attorney can advise you of any exceptions that apply to your specific claim.
In addition to the statute of limitations, a Pittsburgh car accident lawyer can help you navigate the complexities of personal injury law by
Navigating you through the entire legal process
Determining who is liable for your injuries
Gathering evidence to support your claim
Negotiating with the insurance companies on your behalf
Representing you at trial, if your case goes to court
If you have suffered injuries at the hands of a negligent driver call our firm today for a free consultation.
What Are the Most Common Car Accident Claims in Pittsburgh?
Any Pittsburgh car accident lawyer at Robert Peirce & Associates, P.C. has legal experience with all types of car accident claims and are ready to put all our efforts into representing your best interests.
Some of common types of car accidents our attorneys handled are:
Rear-end accidents
Hit-and-run accidents
Our experienced lawyers will also strive to get you a better deal on your car accident claim if it involved a motorcycle, semi-truck, or bus. Get in touch with our law firm in Pittsburgh today to find out how we can help you.
The Most Common Causes of Car Accidents in Pittsburgh
The most common causes of car accidents in Pittsburgh are:
Distracted driving
Drunk driving
Speeding/ reckless driving
Inexperienced drivers
Bad weather
Common Injuries in Car Accidents for Pennsylvania
The most common car accident injuries in PA are:
Fractured/ broken bones
Internal Injuries
What Are the Benefits of Hiring a Personal Injury Attorney After a Car Accident?
All drivers are required to carry car insurance (or risk facing expensive fines). However, even filing an insurance claim isn't a sure way to receive the funds you need.
If you've been left with a catastrophic spinal cord injury, for example, you may become paraplegic and require lifelong care. Such assistance is likely to exceed the average driver's car insurance limits, which usually cap damages at $50,000 to $100,000.
To make matters more complicated, insurers often reject first claims or significantly lower your first estimate. This is a negotiation strategy, as insurers know injury victims are desperate for help and may accept the first offer they get. By working with an experienced Pittsburgh car accident lawyer from the start of your car accident case, you will signal to both the insurance company and the other driver that you are serious.
What Are My Next Steps After a Car Accident?
Once you get into a car accident, it's easy to be overwhelmed: After all, you've just endured an incredibly traumatic experience, and you may suffer from PTSD, which can affect memory.
However, after you've pulled to the side of the road safely, there are a few steps you should be taking to ensure you have a solid insurance claim later.
After your car accident make sure you:
Avoid apologies. It may be tempting to say "sorry" in the chaos of a crash but avoid the temptation. Anything you say during the accident may be used against you later when you file a lawsuit.
Visit a doctor. Whether you're headed to the ER in an ambulance or driving yourself to the nearest urgent care center, it's important to seek immediate medical attention for your injuries, no matter how minor they seem. This establishes your medical record of injury and shows that you suffered enough to seek medical help immediately.
Call the cops. Even if you don't think it's necessary, calling the Pittsburgh police to file an official report will help you during the claims process, as it establishes a public record of the events leading up to the car crash.
Keep track of expenses. The minute you start paying for medical expenses, property damage, and other losses, keep track of everything you buy. You should also request your full medical record from the hospitals and care providers you visit throughout the claims process, as they are obligated to give you these documents under HIPAA.
Call a vehicle accident lawyer. Once your condition is stable, seek immediate counsel with your Pittsburgh personal injury lawyer, preferably one experienced in car accident law. Without legal representation, you may not be able to get adequate compensation for your losses.
Damages You Can Recover from a Car Accident Case in Pittsburgh
Monetary Damages Include:
Medical bills/ future medical care
Current/ future lost earnings
Reduced earning ability
Property repair/ replacement
Non-Monetary Damages Include:
Pain & suffering
Emotional distress
Physical impairment or disfigurement
Loss of companionship
Contact Your Local Car Accident Attorney in Pittsburgh
The skilled car accident lawyers at Robert Peirce & Associates, P.C. are here to help you through your car accident case. Contact us and schedule a free consultation.
Related Reading:
---
Reach out to our car accident lawyers in Pittsburgh if you need help after a car accident. You can contact us online or call us any time at (844) 383-0565.
---
Frequently Asked Questions
Do I Need to File a Police Report?

You must file an accident report with the Pennsylvania Department of Transportation if the accident was not already investigated by police and anyone was injured or killed, OR, any vehicle needed to be towed from the scene, either for safety reasons or due to the scope of the damage.

When Can I File a Lawsuit for Car Accident Injuries?

If your damages are not fully covered by your medical benefits coverage, you may be able to file a lawsuit. The damages you can recover will depend on which type of insurance you have: full tort or limited tort. With full tort coverage, which is the standard, you may sue for tangible expenses as well as non-economic damages such as "pain and suffering." With limited tort coverage, you may only sue for tangible expenses unless your injuries meet a certain standard. In cases of death, serious impairment, or permanent disfigurement, you may also be able to sue for non-economic damages.

What If the Other Driver Doesn't Have Car Insurance?

When you are injured and/or face property damage in an accident where the at-fault party does not have insurance, you will need to use your own uninsured/underinsured motorists' coverage. Our attorneys can advise you through filing your claim and negotiating your settlement.

How Long Do I Have to File a Car Accident Claim in PA?

In Pennsylvania, you have two years to bring any "action to recover damages for injuries to the person or for the death of an individual," including any caused during a car accident. However, when negotiating with insurance companies, you may need to meet their deadlines instead. These typically require you to take action much more quickly—you may have only a few months to seek out and negotiate a settlement.
Success Centered Representation
Put Our Decades of Expreince on Your Side
Built Around Results, Compassion, & Knowledge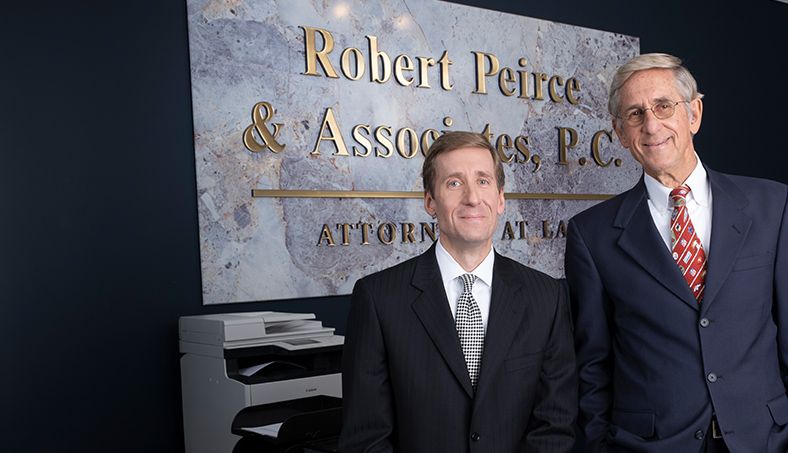 Meet Our Team
Putting Our Clients First
Unparalleled Communication & Representation
"My experience with Robert Peirce & Associates, P.C. was exceptional. From the first day that I contacted them, I knew I made the right choice. Their entire team is very knowledgeable and guides you through the entire process with ease."

- Kelly Weber
We're Here For You
Experience You Can Trust
Request A Free Consultation
Simply fill the form out below to request your free consultation and we will be in touch shortly.