Pittsburgh's Premier Personal Injury Firm
Featuring Over Four Decades of Experience
Pittsburgh Truck Accident Attorneys
Have You Been Injured in a Truck Accident? See if You Are Eligible to Sue for Compensation.
Roadways like I-79, I-279, and the Pennsylvania Turnpike are busy thoroughfares of industrial traffic throughout the Pittsburgh area. The actions of careless truck drivers and negligent freight companies put innocent lives at risk. If you or someone close to you has been injured in a truck accident, an experienced attorney can help you learn about and understand your legal options.
At Robert Peirce & Associates, P.C., we are committed to helping victims of truck accidents recover compensation for the injuries they have suffered. We provide experienced legal counsel to clients throughout southwestern Pennsylvania, Ohio, and West Virginia.
Contact us online or call (844) 383-0565 to speak with an experienced Pittsburgh truck accident attorney.
How Our Pittsburgh Truck Accident Lawyers Can Help You
Because of the sheer physics involved in truck accidents, the resulting injuries are typically severe and life-changing. Many truck accidents result in fatal injuries.
If you or a loved one has suffered a brain or head injury, spinal cord injury, or another severe injury in a truck accident, the damages may be extensive. In addition to short-term medical needs and lost wages, the injury victim may require years of physical therapy and rehabilitation. If full recovery is not possible, they may also need special accommodations and adaptive equipment for work and home.
These damages are not easy to calculate, which is why Robert Peirce & Associates, P.C. has in-house medical professionals to provide an in-depth analysis of accident victims' care needs. No two accidents or injuries are the same, which is one of the reasons we spend time with each client to learn their unique story.
Common Causes of Truck Accidents
In Pittsburgh and throughout the United States, the leading causes of truck accidents include, but are not limited to:
Fatigued driving, such as when truckers are required to work long hours and with little sleep;
Distracted driving, such as texting, talking on the phone, eating, and getting lost in thought, among other activities, while driving;
Speeding, such as when a trucker attempts to travel at the same speed as automobiles, even when they know large trucks are subject to lower speed limits;
Improper or overloaded cargo, such as if a trucker is transporting improperly loaded cargo or more cargo than is safe;
Inadequate training, such as if a trucking company fails to train their drivers or cargo loaders on how to do their jobs, endangering everyone in the interest of profit;
Poorly maintained trucks, such as when a trucking company or trucker fails to ensure the truck is safe to drive;
Defective truck parts, such as when a truck manufacturer, designer, or retailer allows a defective truck part to go to market; and
Driving while intoxicated, such as under the influence of alcohol, prescription drugs, over-the-counter (OTC) drugs, illicit drugs, etc.
More often than not, human error is the underlying cause of a severe trucking accident, whether a truck driver, company, product manufacturer, or other party is to blame. However, there are cases in which the at-fault party is guilty of intentionally disregarding the safety of others for no good reason.
Our Pittsburgh trucking accident lawyers can help you pursue compensation and justice in cases involving both unintentional and intentional negligence.
The Complex Questions of Truck Accident Liability
Usually in two-car accidents, it's easy to determine which driver holds more of the fault and, therefore, whose insurance must handle the other party's claim. In truck accidents, this question may be more complex. Like any commercial vehicle accident, multiple parties may share liability after a truck accident. In some cases, they may try to protect their bottom line by pushing the blame onto others. Such antics can delay a claim even more—so you need someone to advocate for your right to receive a settlement so you can access healthcare.
Liability may be affected by the cause of the accident or the way a trucking business is run. You may find yourself making claims with parties including:
The Truck Driver: If the driver is an independent contractor who owns their vehicle, they may be fully liable for the cost. However, many companies illegally classify full-time workers as contractors to avoid this type of liability. If such a hiring arrangement is examined, the company may actually be responsible.
The Transport Company: Truckers must follow federal guidelines for their (and our) safety: For every 11 hours they drive, they must have at least 10 hours off duty. If a company makes them disregard these limits, either by directly telling them to drive for longer or by setting routes and deadlines that cannot be met under such terms, their recklessness is the true cause of an accident.
A Manufacturer or Mechanic: When a car manufacturer makes a mistake, multiple accidents might happen before a recall is issued. When a truck manufacturer does the same, the accidents are more likely to result in serious injuries or fatalities, often affecting multiple people. If a truck with faulty brakes is sent on the road, or the steering column is not properly linked to other systems after a repair, the party that caused the mechanical error may be held at fault.
Consult with an Experienced Lawyer at No Cost
If you or a loved one was injured in a car that was hit by a truck, whether it be an 18-wheeler or another large commercial vehicle, you deserve a caring attorney to advocate for you. We're a family-owned local firm that puts your experience above everything else. Every case is different, from cause to damages to goals, and we want to help each client obtain a result that is best for them.
Reach out to our Pittsburgh truck accident attorneys at (844) 383-0565 if you need help with filing a claim or insurance negotiations. We offer same-day appointments for your convenience, and if you can't come to us, we will come to you.
Frequently Asked Questions
How Long Do I Have to File a Truck Accident Claim?

In Pennsylvania, a personal injury claim must be filed within two years since the accident took place. While this may seem like a lot of time, it can take months to go through insurance, get medical treatment, and collect evidence before you may be ready to file your claim. We recommend speaking with an attorney as soon as possible so that no time is wasted.

Do Truck Accident Cases Go to Trial?

If an insurer refuses to settle for a fair amount, you may need to sue them for damages. Of course, we would prefer to negotiate a good payout so your financial stress is alleviated sooner than later, but sometimes insurers purposely understate the amount an injury victim needs. In this case, we are unafraid to take a case to trial so a judge and jury can decide the question of your reimbursement.

How Much Can I Get for a Truck Accident Claim?

The amount of your truck accident claim will depend on the details of the accident, but primarily will come down to the severity of injury you sustained and its long-term affect on your life. Other factors that will affect the value of your case include: Cost of medical treatment and therapy you are going to need; loss of earning potential and missed time at work; changes in the quality of your life; and emotional and psychological damage.

How Do I File a Claim for a Truck Accident?

To file a truck accident claim you need to report your accident to the police, get medical documentation of your injuries, and file a claim with either your insurance company or the at-fault party. Next, you will need to work with the insurance company to have your expenses covered. If the insurance company is offering a low settlement or won't compensate your damages, you may need to involve a truck accident attorney.
Success Centered Representation
Put Our Decades of Expreince on Your Side
Built Around Results, Compassion, & Knowledge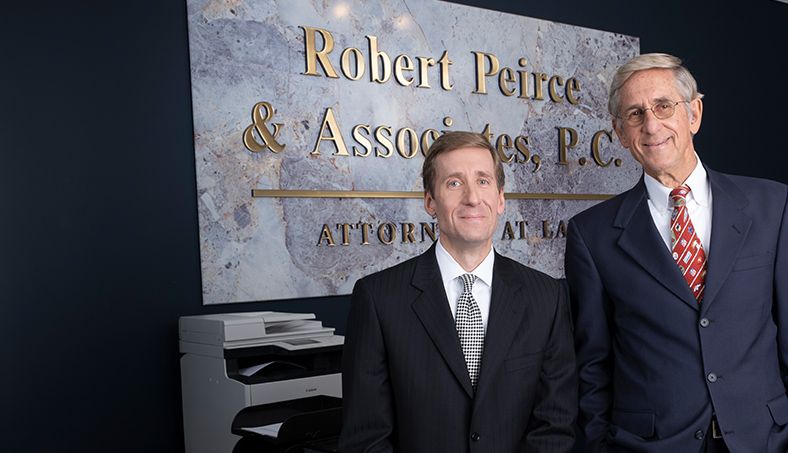 Meet Our Team
Putting Our Clients First
Unparalleled Communication & Representation
"My experience with Robert Peirce & Associates, P.C. was exceptional. From the first day that I contacted them, I knew I made the right choice. Their entire team is very knowledgeable and guides you through the entire process with ease."

- Kelly Weber
Pittsburgh Injury Attorneys
Experience You Can Trust
Request A Free Consultation
Simply fill the form out below to request your free consultation and we will be in touch shortly.