Pittsburgh Medical Malpractice Attorneys
Our Family-Owned, Family Run Firm Has Been Fighting for Injury Victims for Over 40 Years
As the third-leading cause of death in the United States, medical errors should receive much more attention than they do. Systemic weaknesses in the healthcare system and individual negligence can cause serious injuries or even wrongful death among patients. Even highly trained medical professionals can be careless, or worse, they may fail to uphold the "standard of care" that is expected of those in their position.
If you or a loved one has suffered a life-changing injury because of a doctor's mis-action (or inaction), a lawsuit could help you understand more about how the mistake happened and hold the doctor accountable. Whether you are suffering from a birth injury or a delayed diagnosis, you can hold medical practitioners and their employers accountable for life-altering injuries that were caused by their negligence.
Our Pittsburgh medical malpractice lawyers have over 150 years of combined experience and partner with medical consultants who can determine what error a physician made, how it caused a negative outcome for the patient, and what should have been done instead.
Call Robert Peirce & Associates at (844) 383-0565 to discuss your case. If you can't come to us, we'll come to you.
Defining Medical Malpractice: Do I Have a Claim?
Scientists are constantly learning new and better ways to treat diseases and conditions that affect us, but our medical knowledge has many gaps. No procedure is guaranteed to work. Most have even been refined to the point where most patients will not suffer adverse affects. Of those who do, most complications are not caused by physician error. Just because a medical procedure has not given optimal results does not mean the patient is the victim of malpractice. This can be a stumbling point for some who are trying to determine if they have a medical malpractice claim.
Medical malpractice is the negligent action of a healthcare professional that results in injury to the patient. These can be actual mistakes, poor communication with the patient, or just failure to provide a reasonable standard of care.
To evaluate medical malpractice claims, a jury will consider whether a physician failed to offer the baseline standard of care. In a medical malpractice case, the patient must prove:
There was a violation of the standard of care. This is often accomplished by relying on expert testimony and comparing your physician's actions to guidelines or professional expectations.
There was a "factual cause." In other words, you must be able to link the violation of the standard of care to the injuries suffered by the patient.
There were clear damages. There must be concrete evidence the patient suffered losses as a result of malpractice. Losses could be anything from medical expenses to pain and suffering to a new life-altering condition.
Understanding what constitutes medical malpractice is the first step to figuring out how to get a malpractice attorney to take your case. The most common medical malpractice claims involve:
Surgical errors
Diagnostic errors such as delayed diagnosis or misdiagnosis
Errors in administration of medication
Negligence in childbirth resulting in birth injuries and complications
Anesthesia errors
To know for certain that you have a valid medical malpractice claim, contact Robert Peirce & Associates today! Our Pittsburgh medical malpractice attorneys can evaluate your case in a free consultation.
Other Types of Medical Errors
Medical errors fall into two basic categories:
Errors of omission: This type refers to a doctor failing to provide the necessary care. For example, they may fail to provide a diagnosis in spite of clear symptoms in the patient, or completely misdiagnose the condition altogether.
Errors of commission: This is whenincorrect care is provided. Anything from a wrong prescription to a wrong-site surgery falls in this category.
Healthcare professionals often require our absolute trust and confident. If you've encountered a doctor, nurse, or other medical professional that cannot be trusted, our Pittsburgh medical malpractice attorneys want to help you hold them accountable.
How to Find a Medical Malpractice Attorney Near Me?
When searching for a medical malpractice lawyer near you, it is important to take the time to find an experienced attorney who has successfully handled many cases involving medical negligence. Experience in this area of law is essential, as these types of cases can be complex and require extensive experience with medical records and procedures.
A good place to begin your search is by asking friends, family members or colleagues if they have any recommendations. Additionally, you can use online resources such as the American Bar Association to find medical malpractice attorneys in your area. You should also read reviews from past clients to get a better idea of the type of service an attorney provides.
At Robert Peirce & Associates, we have a long history of successfully representing injury victims. Our family-owned, family-run firm has been protecting the rights and interests of individuals who have suffered from medical errors for over 40 years. Call us today at (844) 383-0565 to discuss your case with a qualified medical malpractice attorney. We are here to help you get the results you deserve.
Call our office today at (844) 383-0565 to schedule a free case review.
Recovering Compensation for a Medical Error
Not only is medical malpractice ethically wrong, it can also cause patients to endure immense pain and overwhelming financial expenditure. However, filing a medical malpractice lawsuit against the doctor or hospital responsible can help.
The compensation you're eligible to collect can help you cover the additional medical costs caused by the error. On top of that, exposing a healthcare professional or hospital that committed the error can help you find closure after the incident, and hopefully protect other patients from the same mistakes.
Our Pittsburgh medical malpractice lawyers will fight to recover compensation for the following types of damages:
Medical treatment
Lost time at work/lost wages
Loss of quality/enjoyment of life
Pain and suffering
Wrongful death
To find out what your medical malpractice case is worth, contact our law offices today to schedule a free case evaluation!
Hold Your Negligent Care Provider Accountable
Being the victim of a medical mistake is bad enough, but often a doctor's response to their error can make things worse. At Robert Peirce & Associates, we believe that you deserve to know the truth about your injuries and be duly compensated for your pain and suffering.
Our Pittsburgh medical malpractice lawyers are here to help you if a negligent doctor or surgeon has inflicted a life-changing injury. We've been helping patients in Pennsylvania find justice for over 40 years. Call us at (844) 383-0565 to learn what we can do for you.
Frequently Asked Questions
Is There a Cap of Medical Malpractice Damages in Pennsylvania?

Pennsylvania does not have a cap on economic or non-economic damages for medical malpractice cases, which are the two primary areas that victims can collect from. There are caps on punitive damages, but these are much more rare in medical malpractice areas.

What Is a Certificate of Merit and Why Do I Need One?

In Pennsylvania, you must file a "Certificate of Merit" that is signed by an expert witness before your case will even be considered. This step seeks to cut down on frivolous lawsuits by showing that another medical professional agrees the standard of care was not met and this caused you harm. Our team can help you connect with a suitable expert for your case.

How Long Do I Have to Sue a Doctor for Malpractice?

In every medical malpractice claim, you must be sure to file your lawsuit within the legally-allowed timeframe, or the "statute of limitations." In Pennsylvania, you have 2 years from the date of malpractice (or the date at which you could reasonably be expected to discover it) to file a lawsuit against either a doctor, a hospital, or both.
Success Centered Representation
Put Our Decades of Expreince on Your Side
Built Around Results, Compassion, & Knowledge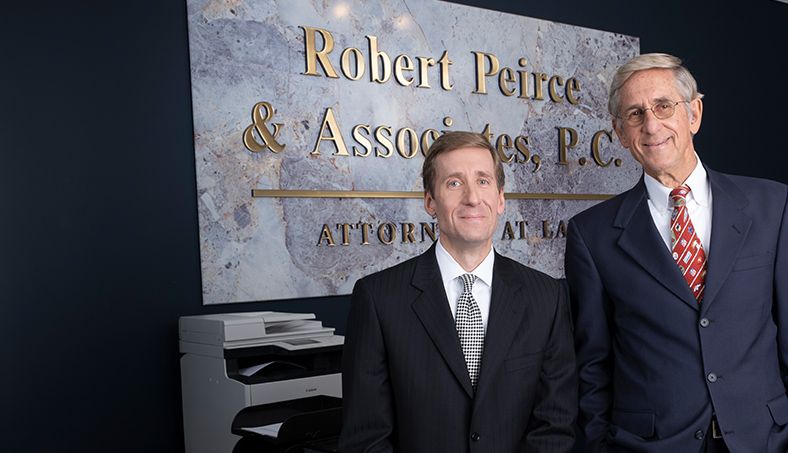 Meet Our Team
Putting Our Clients First
Unparalleled Communication & Representation
"My experience with Robert Peirce & Associates, P.C. was exceptional. From the first day that I contacted them, I knew I made the right choice. Their entire team is very knowledgeable and guides you through the entire process with ease."

- Kelly Weber
Pittsburgh Injury Attorneys
Experience You Can Trust
Request A Free Consultation
Simply fill the form out below to request your free consultation and we will be in touch shortly.