Real Estate Assessment Lawyers in Pittsburgh
Fighting Unfair Property Tax Valuations in Allegheny County
As a property owner, you're well aware that the value of your property can change over time.
At Robert Peirce & Associates, P.C., our Pittsburgh real estate assessment attorneys can help you appeal unfair property tax valuations and assessments. Our team has handled numerous appeals for both residential and commercial property owners, with a proven record of success.
Allegheny County has specific timelines for making challenges to property tax assessments. It is therefore important to act now to get the legal counsel you need. Call (844) 383-0565today!
Working to Reduce Your Real Estate Assessment
A proper real estate assessment is a key factor in determining a fair market value of your home and your tax burden. An inaccurate assessment can have an unwanted effect whether you are a residential homeowner or a commercial property owner. For decades, clients throughout Pittsburgh and surrounding communities have relied on us when they have needed an informed and reliable advocate.
If you believe that the market value of your property is inaccurate, our firm can put the knowledge, resources, and experience behind your case to get a fair result.
To contact our office and schedule a free initial consultation to review your claim, call our Pittsburgh real estate attorneys at (844) 383-0565 or reach us online.
Nearly 40 Years of Experience Handling Property Tax Assessments
Robert Peirce, Jr., Founder of Robert Peirce & Associates, learned of the deficiencies and inequities of the Allegheny County assessment system firsthand as an elected County Commissioner from 1975 to 1979. He put this experience to good use in the early 1980s when he represented over 1,000 homeowners and taxpayers in a variety of assessment appeals. In 1980, the county assessment office was theoretically assessing properties at 50% of market value. Peirce was among the first attorneys to discover that commercial properties were, in fact, assessed at a ratio in excess of 50%. In the early 1980's, he represented hundreds of commercial property owners, including country clubs, shopping centers, banks, restaurants, car dealerships, apartment buildings, downtown office buildings and industrial and manufacturing properties.
His efforts created substantial savings for many of the commercial property owners in Allegheny County. In the last county-wide reassessment in 2012, our Pittsburgh property tax attorneys represented over 1,500 property owners whose assessments were successfully reduced.
With nearly 40 years of experience in real estate tax assessment appeals, Robert Peirce & Associates, P.C. has represented thousands of property owners.
Taking Action At The Right Time
Whether your home is worth $50,000 or $500,000, an inaccurate or unfair property assessment can have a serious and damaging impact on your pocketbook. At the law office of Robert Peirce & Associates, P.C., our Pittsburgh real estate lawyers can help you make appropriate challenges to an overly high assessment. We encourage you to contact us today to arrange a no-cost initial consultation about your specific circumstances.
Give us a call at (844) 383-0565 or complete our online form. Our Pittsburgh real estate assessment attorneys offer a free consultation.
Frequently Asked Questions
Can you guarantee that my assessment will be reduced?

No. We will, however, thoroughly examine your property and the surrounding properties and give you our educated, experienced opinion as to whether or not we believe we can lower your assessment. Since we are handling these cases on a contingent fee, you are assured that if we agree to accept your assessment appeal, we genuinely believe we can lower the assessment.

If I appeal my assessment, is there a chance that my assessment might actually be INCREASED instead of lowered?

That is possible, but in the cases our firm has handled, it is highly unlikely. We work to minimize any increase in those circumstances.

Do I have to have a lawyer to appeal my real estate assessment?

No. You are allowed to file your own appeal and as the property owner, you are allowed to give an opinion of market value. Most people familiar with the assessment process have long recognized that the best results are obtained by people who retain attorneys with experience and familiarity with the Allegheny County assessment process.

What does it cost to hire Robert Peirce & Associates to handle an assessment appeal?

Our Pittsburgh real estate attorneys handle all real estate assessment appeals on a contingent fee basis. if an appraisal is necessary, the firm hires the appraiser at the firm's expense. All cases are handled on a contingent fee basis of one-third of the property savings over two years if the assessment is reduced. In the unlikely event the assessment is not reduced, then no fee is charged. The only cost to the taxpayer is the filing fee to the Court of Common Pleas.
Success Centered Representation
Put Our Decades of Expreince on Your Side
Built Around Results, Compassion, & Knowledge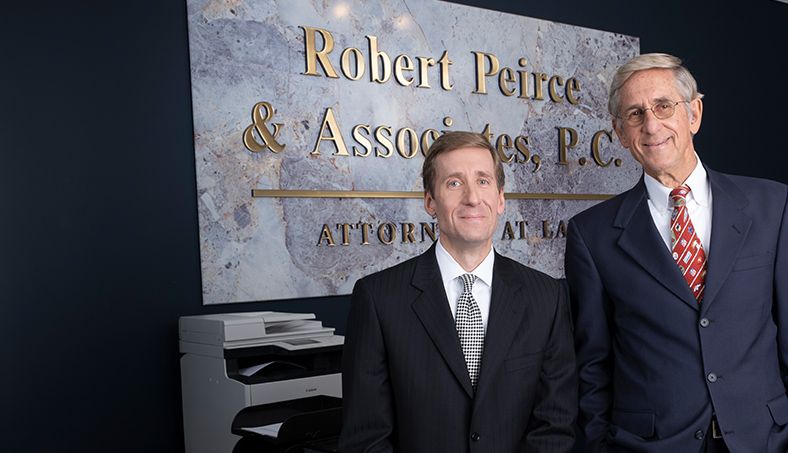 Meet Our Team
Putting Our Clients First
Unparalleled Communication & Representation
"My experience with Robert Peirce & Associates, P.C. was exceptional. From the first day that I contacted them, I knew I made the right choice. Their entire team is very knowledgeable and guides you through the entire process with ease."

- Kelly Weber
Pittsburgh Injury Attorneys
Experience You Can Trust
Request A Free Consultation
Simply fill the form out below to request your free consultation and we will be in touch shortly.