Experienced Nursing Home Abuse Attorneys in Pittsburgh
We've Been Helping Local Families for More than 40 Years
Surveys have found that more than 4 in 10 seniors have experienced abuse while staying at a nursing home, assisted living facility, or skilled nursing care center. In addition to physical and sexual abuse, seniors often face neglect from their caregivers. Residents may face issues that seem easy to solve, like dehydration and malnutrition—which may affect up to 40% of patients nationwide. Now that over 40 million people are over the age of 65 and over 3 million of them are in nursing homes, millions of people could be at risk of serious injury and death in a nursing facility.
Justice for Your Loved One
Any type of abuse is horrifying, but especially when it is aimed against those who are too vulnerable to advocate for themselves, it must be stopped. We are dedicated to helping injury victims and their families gain an understanding of the situation and request compensation by filing a lawsuit. As a multi-generational, family-owned practice, we know how difficult it can be to see a loved one suffering. Both you and they deserve justice for what they have been put through.
How Does Nursing Home Abuse Happen?
Despite the prevalence of nursing home abuse, many families do not become aware of the issue until it is too late for them to prevent injury or secure better care. Caregivers often try to hide injuries caused by negligence, such as pressure ulcers. Even if you are vigilant, it can be hard to know when your loved one is facing abuse.
Here are some actions that can constitute nursing home abuse or negligence:
Hospitalization for preventable injuries
Financial abuse
Sepsis or other infections
Lack of personal hygiene care
Sexual abuse
Even minor injuries that are left untreated can quickly spiral into a life-threatening condition. Infections and pneumonia can be deadly for elderly patients, and other injuries (such as pressure ulcers) can introduce immune weaknesses.
What Are the Signs of Nursing Home Abuse?
It can be difficult to stay up to date with a loved one's care when you only see them frequently. Injuries may be concealed or downplayed by nurses. If caretakers always seem rushed or irritated, it could be a sign of understaffing, which often leads to neglect and abuse. You should also watch your loved one and other residents for indications of fear around the staff.
You may notice the following signs if your loved one is experiencing abuse or neglect:
Have there been frequent illnesses, bruising or other injuries where little or no clear explanation was given? If so, poor physical care, unattended wandering or the use of physical restraints may be involved.
Have personal items been disappearing from your loved one's room? Missing personal items can indicate that there are understaffing issues or the presence of predatory and abusive staff members.
Has there been recent significant weight loss or weight gain? Unexpected weight loss or weight gain may indicate a failure to follow care plans or nutritional plans, poor monitoring by staff, and other problems.
Does your loved one seem "out of it" or withdrawn lately? This may indicate medication errors or the purposeful overuse of drugs to restrain your loved one. It may also indicate emotional or physical abuse of some type.
On your visits, have you noticed that most residents seem unattended or withdrawn? One of the chief ways nursing homes make profits is to put fewer people on the payroll. The price paid for those profits can be seen in the neglect, abuse, unhappy staff and unhappy residents found in these homes.
If you have noticed any of these signs of neglect or abuse, talking to a lawyer about your concerns now — even if you don't know anything for sure — is simply taking a step to protect your loved one, and possibly many others, from future harm.
What's the Difference Between Nursing Home Abuse and Neglect?
Nursing home abuse involves the intentional mistreatment of an elderly resident including physical, verbal and sexual abuse. Elderly abuse can also include financial exploitation. Nursing home neglect can be just as bad as outright abuse, but it not always easy to spot.
Neglect may stem from understaffing issues or poor facility maintenance. It can also occur by staff members intentionally ignoring residents or withholding essentials from them, including food, water, medicine, clothing, and more.
If you suspect your relative is experiencing abuse or neglect in their nursing home, bring it to the attention of the facility's staff. If they dismiss your concerns, contact an experienced personal injury attorney.
Can You Prevent Nursing Home Abuse?
While it is not always possible to prevent every instance of nursing home abuse, there are some measures you can take to reduce the chances of your relatives experiencing mistreatment in their nursing home.
The COVID-19 pandemic makes it difficult to visit your elderly loved ones in person. Speaking regularly with them on the phone, however, will still give you insight into how they are being treated. Make sure to give your relatives a call at least once a week to ensure they are receiving the care and attention they need and deserve.
If you suspect this is not the case, bring it to the attention of the facility's staff. If they dismiss your concerns and you still suspect abuse or neglect, contact an experienced attorney today.
Contact our Pittsburgh nursing home abuse attorneys at (844) 383-0565. If you can't come to our office for your free consultation, we'll come to you.
Frequently Asked Questions
What Is the Statute of Limitations for Nursing Home Abuse Lawsuits?

If you've discovered that your loved one has been enduring abuse, negligence, and carelessness at their nursing home, you may feel understandably outraged and desire to pursue a lawsuit against the facility. Under Pennsylvania law, you are entitled to bring a lawsuit within 2 years of the date of the injury or wrongful death.

How Common is Nursing Home Abuse?

In Weill Cornell Medicine's study, researchers investigated the frequency of "mistreatment" in nursing homes, which encompassed everything from physical abuse to sexual assault. It included any unwelcome behavior that had the potential to cause physical or psychological distress in a resident. Researchers found that of the 2,011 residents studied, 407 experienced at least one instance of mistreatment during the one month the study was conducted. This constitutes an abuse rate of 20%. This issue is not isolated to the state of New York. Nursing home abuse and neglect are widespread problems across the United States. It's estimated that 5 million older Americans experience elder abuse, neglect, or exploitation every year. Additionally, it's believed that many more cases go unreported, often due to elders' inability to communicate the abuse or due to threats and intimidation from the caretaker.
Success Centered Representation
Put Our Decades of Expreince on Your Side
Built Around Results, Compassion, & Knowledge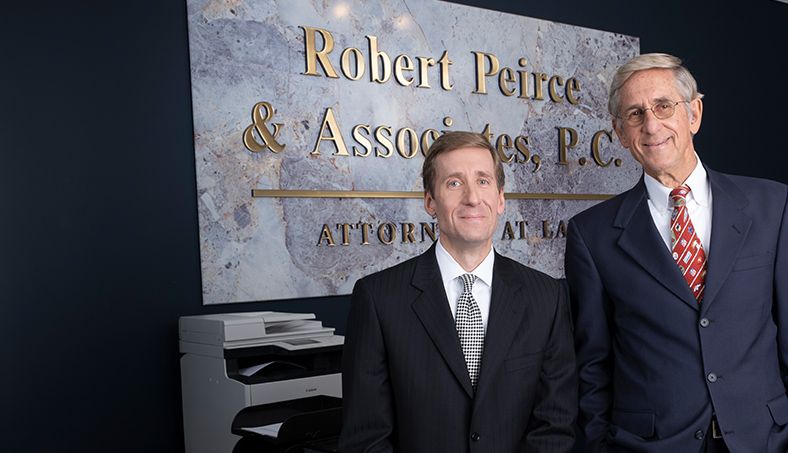 Meet Our Team
Putting Our Clients First
Unparalleled Communication & Representation
"My experience with Robert Peirce & Associates, P.C. was exceptional. From the first day that I contacted them, I knew I made the right choice. Their entire team is very knowledgeable and guides you through the entire process with ease."

- Kelly Weber
Pittsburgh Injury Attorneys
Experience You Can Trust
Request A Free Consultation
Simply fill the form out below to request your free consultation and we will be in touch shortly.