Hypoxic Ischemic Encephalopathy
Pittsburgh Hypoxic Ischemic Encephalopathy Lawyers
Our Family-Owned Firm Has Helped Hundreds of Clients With HIE Claims
Hypoxic ischemic encephalopathy (HIE) is a birth injury that is caused by a lack of oxygen and blood flow to the baby's brain during or near the time of birth. Although there are certain procedures doctors and nurses must follow to detect and prevent oxygen deprivation during labor and delivery, failure to remain vigilant can cause your baby to suffer catastrophic brain injuries. Depending on the extent of the brain damage, they may need medical attention and/or living assistance for the rest of their life.
If your child has suffered hypoxic ischemic encephalopathy due to the negligence of a healthcare provider, Robert Peirce & Associates, P.C. can help you and your family obtain the compensation and justice you all deserve. With nearly four decades of legal experience, our Pittsburgh HIE attorneys can investigate your case, gather supporting evidence, and work with experts in the medical field to maximize your recovery.
Call our team at (844) 383-0565 for your free, no-obligation consultation.
What is HIE?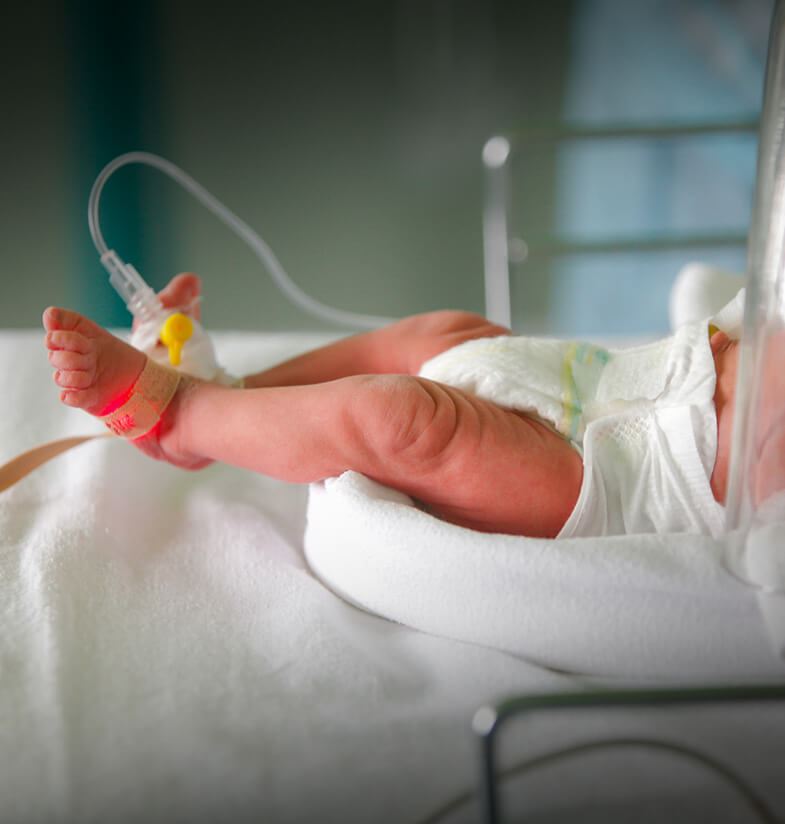 HIE stands for hypoxic ischemic encephalopathy, which means:
Hypoxic: Reduced oxygen or complete lack of oxygen
Ischemic: Reduced blood flow
Encephalopathy: Brain disorder
If HIE is not treated as quickly as possible, the combination of low oxygen and reduced blood flow to the brain causes a chain reaction of brain damage where cells that have begun to die release toxins that cause more and more brain cells to die.
Causes of HIE
Timely delivery can prevent most of the health complications that result in an HIE diagnosis; however, several issues can lead to a more urgent delivery, typically by emergency C-section.
The following are the common causes of hypoxic-ischemic encephalopathy:
Maternal health issues – Doctors must take extra precautions when dealing with high-risk pregnancies. When a mother has diabetes, has high blood pressure, is obese, is giving birth to multiple babies, and/or is over the age of 35 years old, there is a higher risk of HIE.
Umbilical cord issues – Before birth, the oxygen a baby needs is circulated through the umbilical cord. This system must stay functional through labor. Dangers include the cord becoming compressed or crimped; wrapping around the baby's neck; being too short; or being infected.
Placental issues – Complications with the placenta can deprive a baby of oxygen, resulting in HIE. IF the placenta either separates prematurely or not at all or blocks the baby's passage out of the womb, the umbilical cord may not receive the nutrient-rich and oxygenated blood the baby needs.
Postpartum issues – Babies can also suffer HIE in the postpartum period, especially premature babies. Issues such as cardiac disease, pulmonary disease, and infections can cause oxygen insufficiencies.
HIE is typically preventable with quality prenatal care, proper monitoring of the labor progress, and intervention if there is any indication of fetal distress. When medical professionals fail to notice or act on indicators of infant asphyxiation, you could be able to sue them for medical malpractice.
Long-Term Effects of HIE
If HIE is caught and treated quickly, the damage to the infant's brain can be minimized. However, if a doctor is negligent and doesn't take appropriate steps to prevent and treat HIE, the baby may be left with severe brain damage that can completely alter the course of their life.
Long-term symptoms of hypoxic ischemic encephalopathy may include:
Missing important developmental milestones
Diminished mental capacity
Loss of motor control
Physical disability
Depending on the severity of your baby's injury, they may require special education and in-home care for the rest of their life. An experienced Pittsburgh HIE attorney from Robert Peirce & Associates can help you recover the financial compensation you need to provide for your child.
Schedule a Free Consultation Today
Not only does hypoxic ischemic encephalopathy affect your baby's quality of life, it can change the support and financial needs of the whole family as well. Our Pittsburgh HIE lawyers are committed to helping you obtain the financial means to provide your child with the best quality of life possible. Filing for compensation can be a way to achieve that—and also help you understand why this tragedy has hurt your family.
For more information, contact us online or call (844) 383-0565 to discuss your case.
Putting Our Clients First
Unparalleled Communication & Representation
"My experience with Robert Peirce & Associates, P.C. was exceptional. From the first day that I contacted them, I knew I made the right choice. Their entire team is very knowledgeable and guides you through the entire process with ease."

- Kelly Weber
Pittsburgh Injury Attorneys
Experience You Can Trust
Request A Free Consultation
Simply fill the form out below to request your free consultation and we will be in touch shortly.